Popularity and views:
23,691
Online instant loans through apps and money lending scams and frauds in India are increasing alarmingly affecting the lives of millions of people, who while facing any kind of financial crisis, in emergency, are face the fancy and promising advertisements broadcast by these online money lending applications on Facebook, Whatsapp or SMS and be trapped in the scam.
Although several instant loan apps have a common operating module, they charge high amounts in the form of processing fees, service fees, memberships for higher credit limit of the offered loan or late payment penalties.
Many State Police Cyber ​​Crime Units including Telangana Police and Delhi Police recently managed to expose the fake Loan Syndicates but still on Google Play Store and as custom apps many still operate and trap innocent people.
Instant Loan App – "Volcano Loans", an instant personal loan app offering instant loan in India is a scam operating in the name of Volcano Loan, the app is available on Google Play Store and they have engaged sponsored ads on Facebook to promote themselves.
Imagine, you just check your loan eligibility and you receive a transfer of 2000 rupees. under the pretext of Loan without your Approvals for a Duration of 3-4 Days, Reimbursement in 4 Days for 5000 Rs.; No loan fees, duration of respondent occupation; And after 4 days the extortion messages, blackmail threats, abusive threats start… This is a new scam alert
Someone at least willing to take the loan, call it the technical glitch in the Volcano loan application or an intentionally created scam trap, as soon as someone downloads the app, it will put you through a regular update process personal information, PAN card, Aadhar card, photo, collect 5-6 of your reference contact numbers and banking information (account / IFSC). Until this phase, the application will appear as a real instant loan application.
To your surprise, what happens next will blow your mind. Your account may be credited with a small amount (2000/2500/3000) without any approval, consent or assessment process of your loan sanction, you are not informed of anything about duration or fees and application will start showing that you have taken a loan of XX amount and amount payable after 4-5 days is 2 times.
Then another aspect of the scam is that the amount credited to your account (like what we found in the case investigated by our team) could be coming from a personal account and not from a financial company or NBFC. For the next 4 days, you can try to search their numbers, email them or message them on the Facebook page, you won't get any response.
From the 4th day, loan recovery (cyber extortion would be a more appropriate word for Volcano loan app) Whatsapp messages start appearing where you are threatened to repay the amount otherwise they will hack your account, start sending nude photos, erroneous / defamatory messages to your contact list or WhatsApp broadcasts. Even if you try to explain to them that the whole process was an unauthorized transfer without consent to your account without informing you of the fee or mandate, it might not help because loan collectors are fully trained to abuse and use foul language, they are not. there to understand you.
So far, after our research, not even a single track of Volcano Loan App Company or its location could be found, daily only new Whatsapp numbers, increasing day by day the amount of extortion and the threats – So this is extortion in the digital age, where anyone at random could be targeted
volcano app loan scam
Transfers without consent, no indication of occupancy, fees or amounts processed are informed, it just means that the app is for data collection of KYC/banking information, because they know they can manage the extortion via loan collectors.
Misuse of your documents once you share with them (clearly their recovery agents are threatening citing that they will misuse your documents)
WhatsApp numbers for recovery threats keep changing, no voice calls have ever been made and if they call it's via VOIP/international number
Can trick anyone by this as the information they need to trick someone into this scam is PAN card, Aadhar card, photo and bank/IFSC account number
In their loan sanction, there is no mention of GST, no registered address of the company displayed anywhere, we wonder how Google Play Store and Facebook Advertising allow these scammers to operate on their platforms
The amounts transferred (in the case we researched) were from a personal account and not from an NBFC or financial company, even if someone insists on refunding the unauthorized amount received to the same account number from which it was originally received, the so-called loan collection agents get upset
MORE HISTORY AND DETAILS WILL BE EXPOSED SOON
If you have any information/leads or if you are scammed by loan apps, post the instant loan app name in the comment section.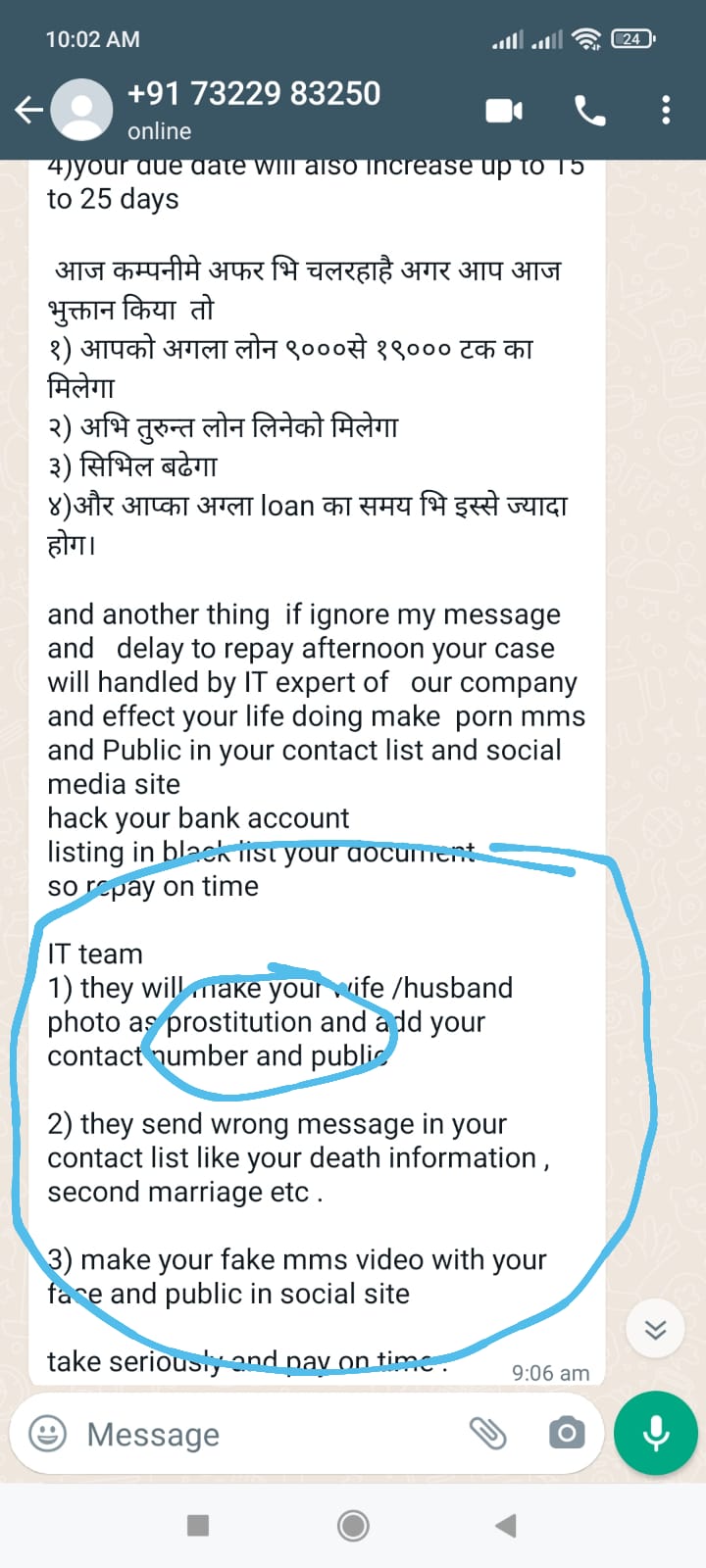 Related